Features

(Also see the Changes in version 3.2)


Security and Privacy. JBMail uses smart technology choices to eliminate the security and privacy hazards found in other mail clients, without sacrificing interoperability. For instance, HTML is stripped to plain text and not rendered.

Full SSL/TLS support. Secure Sockets Layer and Transport Layer Security use state-of-the-art encryption to protect POP3 and SMTP communications from eavesdropping and spoofing. Provided by the industry standard OpenSSL.

Virus protection. Multiple levels of defense against viruses, worms and trojans. Safety features include a file block list and executable file SanityCheck.

Junk mail filtering. JBMail includes powerful junk/spam filtering capabilities, including whitelist and blacklist, heuristic custom filters, and even header pattern matching.

Portability. Fits on a floppy disk; no install required. No local mail storage, and no registry keys created. Messages can be viewed and saved/archived in plain text format to guarantee cross-client and cross-platform compatibility.

Efficiency. Header-based POP3 access lets you read and delete mail directly on server without downloading everything. Light-weight software is nimble even on old computers!

Supports POP3 and SMTP; MIME; base64 and UUencoded attachments; ISO-8859-1 (Latin1) Western European characters; and many other standard features.

Only in JBMail Plus: Ability to save multiple profiles and message flags/states. Mail is still kept on the server.



Screenshots

The Setup window and Inbox window (showing an active session over SSL)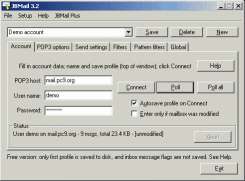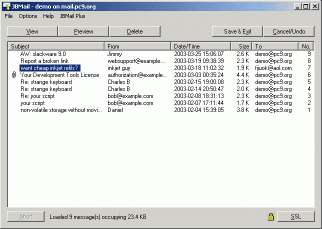 Online Manual. Learn about MD5 and PGP signatures.

---
BUY NOW, only $35.00
For help with ordering contact us

The free trial version of JBMail never expires or nags for registration. The limitations are that: (1) it can only save one profile to disk, and (2) message flags (read, replied to states) are not retained between sessions. In all other respects the free trial version is identical to the full version.

The full version (JBMail Plus) can save multiple profiles to disk, without limit, and retains all message flags/states in all profiles. This makes JBMail much more convenient for frequent use since you can painlessly access multiple mail accounts and see at a glance which messages you have already read and replied to. The software can be ordered online by credit card; our orders are processed by ShareIt.
PRICE STRUCTURE (in U.S. Dollars)
Volume discounts for JBMail version 3.2
Single user license
35.00 USD
2 - 9 licenses
32.00 USD/license
10 - 24 licenses
28.00 USD/license
Over 25 licenses
22.00 USD/license
Larger site license
Available upon request
Prices are subject to change without notice.
JBMail Plus can be ordered online from PC-Tools.Net. The software is automatically delivered by e-mail upon receipt of payment (credit card, cheque, wire transfer). BENEFITS: Registered users receive JBMail Plus, a more capable version of the software. Customers can also enjoy 1 year free technical support by e-mail as well as free upgrades for 3 years.
---
Reviews, Awards and Recognition
JBMail, previously one of the Internet's "best-kept secrets" is rapidly gaining popularity as a serious Internet business and tech tool. It's worth mentioning that the new SSL/TLS support and advanced mail filtering capabilities have just been added in mid-2003, and have not yet been reviewed internationally.
JBMail is sure to draw much more attention with increased worldwide awareness of the need for security and privacy in e-mail. If you know of a newsletter, magazine article, or other review that mentions JBMail please contact us.